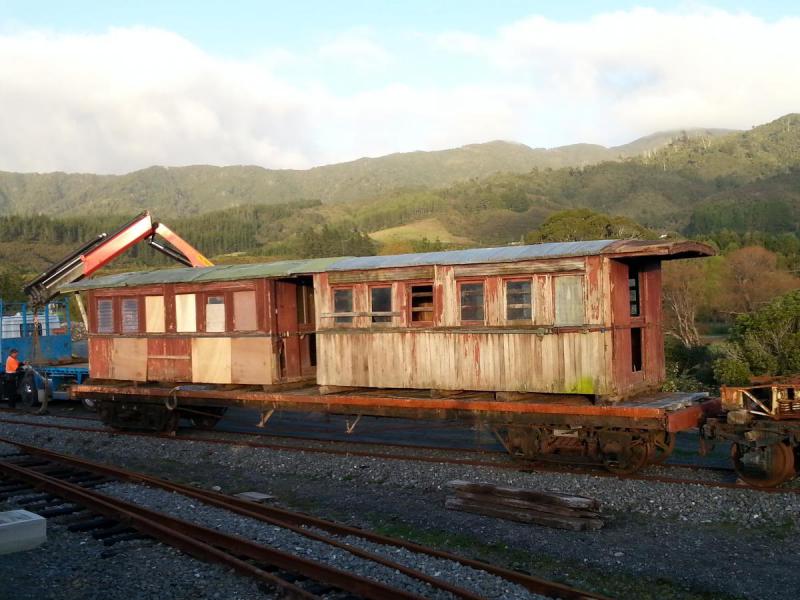 An 1884-vintage "Gumdigger" type carriage is destined to run again on the Rimutaka Incline Railway. The Trust has recently been offered the two carriage body halves of Gumdigger carriage A255, which have been transported from Dunedin to its base at Maymorn, Upper Hutt.  A255 was built at Addington Railway Workshops in 1884, saw service in and around Christchurch until 1964.
In 1964 it was sold to a farmer in Mosgiel for use as a storage shed - and subsequently one half was on-sold. One carriage body half was required to be moved urgently and the Trust had to take swift action to remove it from the property to ensure that it was not demolished. By a stroke of luck the second half of the carriage still survived and was also donated to the project. The two halves of the Gumdigger carriage were transported north from Dunedin on 12 May 2015, reaching Picton three days later. Its arrival at Wellington was delayed a couple of days due to a storm on 14 May.
On Tuesday 19 May the two carriage halves were transfered from rail wagon to hiab truck with the assistance of staff at KiwiRail's Wellington CT terminal. By late afternoon A255 was back together again on a carriage underframe, and safely stored out of the weather in the Trust's rail vehicle shed at Maymorn.
The long task of restoring the carriage and returning it to operation will start shortly, with the aim of retaining as much of the original material and character of the design as possible.
Donations towards the transport of the carriage components and restoration of the carriage will be gratefully received.