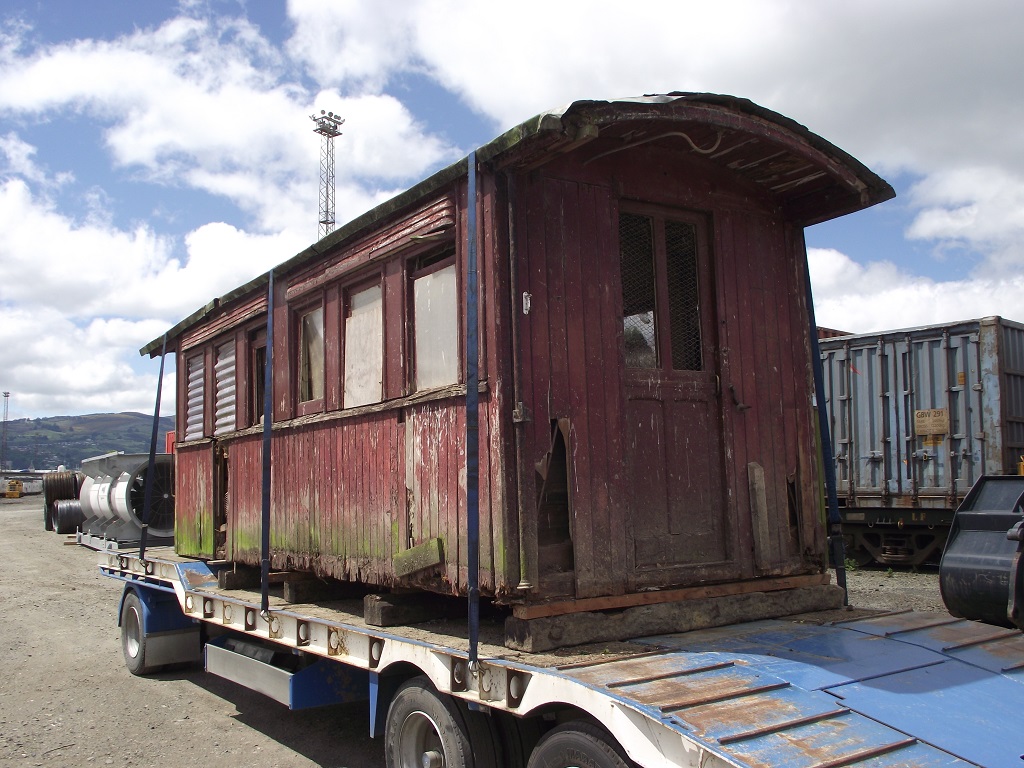 The first half of Gumdigger carriage A255 in transit at Dunedin in December 2014. Photo: Clark McCarthy.
The two halves of Gumdigger carriage A255 were reunited in Dunedin in May 2015, and traveled by rail from Dunedin to Wellington from 12-16 May, They will be placed onto the carriage underframe and into safe, dry storage in our rail vehicle shed. Once the workshop is finished we plan to start work rebuilding the underframe, bogies and compartments.
A255 was built in 1884 as a low roof centre balcony composite car. Gumdigger carriages were built between 1882-1887 in New Zealand Railway Workshops and The Railway Carriage Company, Oldbury UK. This particular example is one of only 3 or 4 such carriages in existence, others being located at MoTaT, Auckland. A255 was built at Addington Workshop, Christchurch, completed in September 1884. It was converted to second class accommodation in 1927, and written off at Addington 31 March 1952. It continued on in non-revenue service reclassified and renumbered as Ea 2568, finally written off on 12 September 1964. It was then was sold and relocated to a farm in Milton. The other main body component was located on another farm in the Dunedin area and has also been donated to the Trust for the project - for which we are extremely grateful.