The Trust has purchased thirteen YC-class ballast wagons from ONTRACK for future use on the Rimutaka Incline Railway. Around 200 wagons of YC, YF and YH classes will be withdrawn from service during 2007, to be replaced by a fleet of 40 modern YJ-class bogie hopper wagons. The Trust's plans to construct and maintain an 18km heritage railway from Maymorn to Summit will require a ballast wagon train. This is a rare and not-to-be repeated opportunity to acquire suitable ballast wagons. The Trust is grateful to the many individuals and organisations that have sponsored a wagon or transport thereof, including New Zealand Community Trust, Pelorus Trust and Winstone Aggregates; and also to ONTRACK for the opportunity to purchase the vehicles.
The first eight wagons were transferred from Palmerston North to Wellington on 27 August 2007, marshaled in the middle of a scheduled Toll freight train. The wagons were transferred by road to Maymorn over the following week by Hammond Crane and Cartage of Upper Hutt. The next five will be road transported direct from Palmerston North to Maymorn, to eliminate the need to have the wagons re-certified.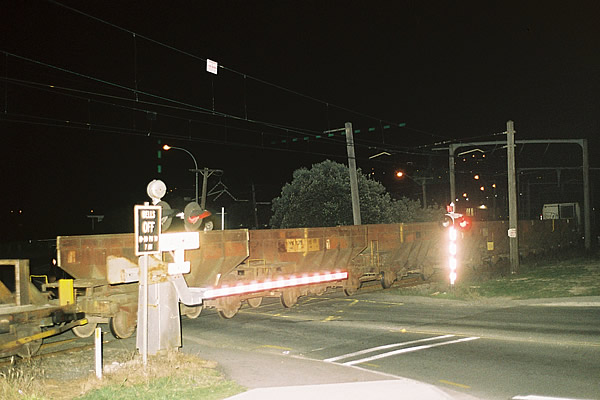 The rake of eight YC wagons were photographed in the middle of No.225 freight at Plimmerton on the night of 27 August 2007. In less than 25km their last mainline journey would be over. Photo: Hugh McCracken.
A video of the rake of ballast wagons in the middle of freight No.225 freight, climbing through Takapu Road, some 12km from Wellington on 27 August 2007.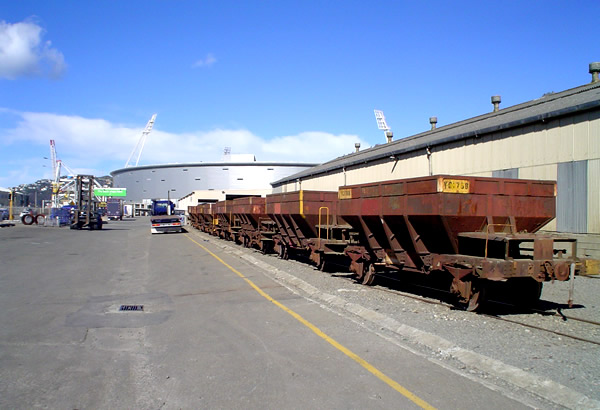 The first eight YC class ballast wagons destined for the Rimutaka Incline Railway at Wellington rail yards on Thursday 30 August 2007. Photo: Hugh McCracken.
By 31 August the first three wagons had been road transported to Maymorn. The remaining five were shunted in Wellington yards to an accessible siding (as seen in the above video), so that remaining ballast could be emptied from them.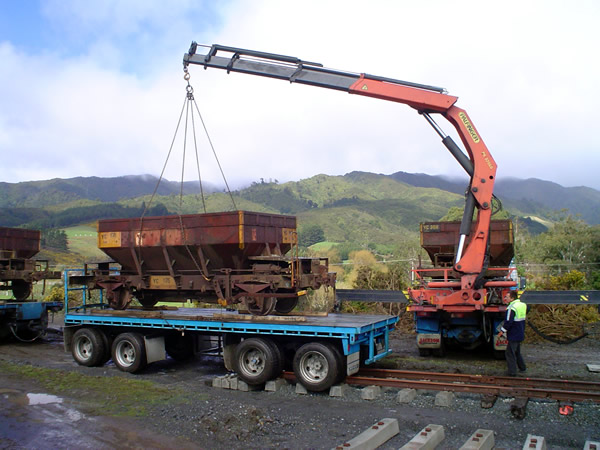 Hammond Crane and Cartage transported up to three wagons from Wellington to Maymorn in a shift. YC1175, left, is about to be placed onto Rimutaka Incline Railway sidings on 5 September. Photo: Hugh McCracken.
Two hundred YC-class ballast wagons were constructed in New Zealand Railways workshops between 1959 and 1961, the first batch of 40 being built at East Town Workshops, Wanganui. They were a considerable advance over their predecessors, the YB class, with double the cubic capacity at 10.3m3, and conforming to the then new, long wheelbase of 13' (3962mm). A side-discharge variant, the YF class, were built at Addington Workshops, Christchurch in 1964-5. The YC were in turn superceeded by the 16m3 capacity YH class wagons, 85 of which were built between 1978 and 1980, again at East Town Workshops. YC, YF and YH classes continued to be used into the 21st century.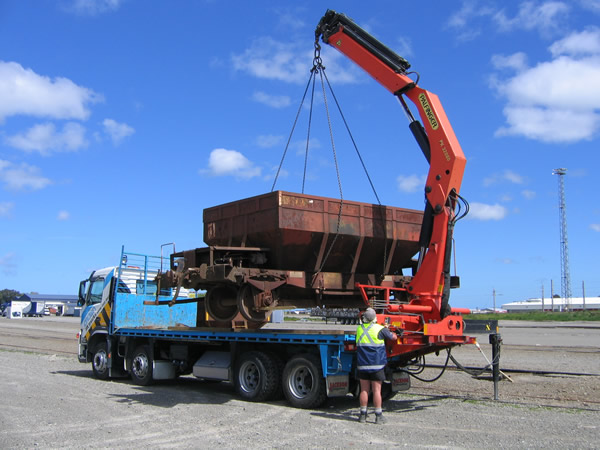 YC2329 being loaded at Palmerston North on Wednesday 31 October 2007, the 12th ballast wagon destined for the Rimutaka Incline Railway. Photo: Alex Maciver.