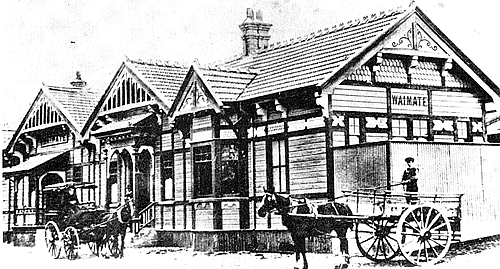 An authentic heritage station building is planned to be built at Maymorn, replicating the Waimate station of 1907 designed by George Troup. It is a medium-sized design, being 108' (32.9m) long by 20' (6m) wide, having most of the features and ornamentation of stations designed by Troup. Marseilles tiled roof, half-timbered construction and decorative multi-post entrance porch set the building apart from other designs.
It is anticipated that the station building will be used:
as the starting and finishing point for visitor experience
as the booking and information centre
for customer services - franchises, e.g. café, souvenirs
as a Discovery centre
for station management
for train control
as a member facility, including meeting room available for public hire.
Troup design
George Troup (1863-1941) worked as a draughtsman for New Zealand Government Railways from 1888, and promoted to Chief Draughtsman in 1892. He was promoted to the position of Designing Engineer in 1902, and was the Officer-in-Charge of the Architectural Branch from 1919 until his retirement in 1925.
Early designs were more functional and utilitarian, following on in the pattern established by his predecessors. More ornate and decorative designs emerged from the turn of the 20th Century, including Oamaru, Wanganui, New Plymouth, Picton, Dannevirke, Masterton, Petone and Lower Hutt stations, amongst others. The pinnacle achievements were the New Zealand Railways Head Office in Wellington completed in 1903 and the Dunedin station of 1906.
The Wellington to Masterton Railway had no less than four 'Vintage' Troup stations, including:
Kaiwarra
Petone
Lower Hutt, and
Masterton,
of which only Lower Hutt currently survives. The Kaiwarra station was demolished in 1933 to make way for the Tawa Flat deviation of the North Island Main Trunk, the twin tracks passing right through the middle of the former island platform.
An accurate replica is desired – to achieve an authentic outcome, and it is hoped that replicating an existing design will reduce the amount and extent of new design work required. A station building with a floor area of 100' x 20' (30m x 6m) would most likely satisfy requirements at Maymorn.
A review of Troup's many station designs was undertaken to identify a design that resembled those originally located in the Wellington region, having a floor area in the vicinity of 180m2, and requiring few modifications to meet the current Building Code.
The former Waimate design was selected. Each end of the roof terminated in gables, which were richly decorated with corbels and scrollwork. The street-side of the building incorporated two gabled wings and two gabled dormers. The ladies waiting room featured a bay window similar to that of the Lower Hutt station – and in many ways it was a shorter version of that building.
A design brief was developed for the station building and in mid-2005 the Trust commissioned Cochran and Murray, conservation architects, to prepare working drawings and specifications. This work was completed in 2006 and a full set of drawings and engineering specifications are ready for building consent application.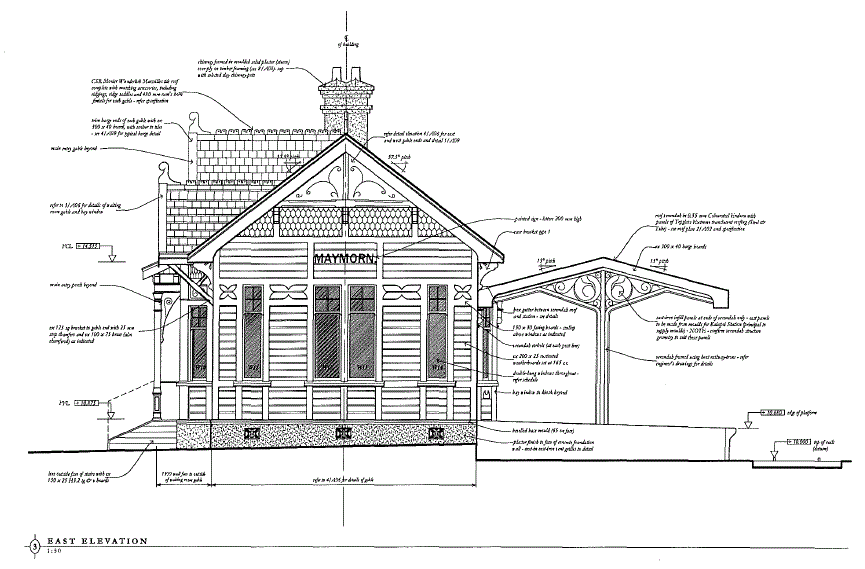 End elevation of Maymorn station building, plans prepared by Wellington-based conservation architects Cochran and Murray.
The building site has been cleared, and plans are under way for earthworks to complete the building site.
The Trust is grateful for the support of the Rimutaka Charitable Trust, making this work possible.
References: Mahoney, J.D. (1987) "Down at the Station - a study of the New Zealand Railway Station", The Dunmore Press, Palmerston North
Subscribe to Maymorn station building