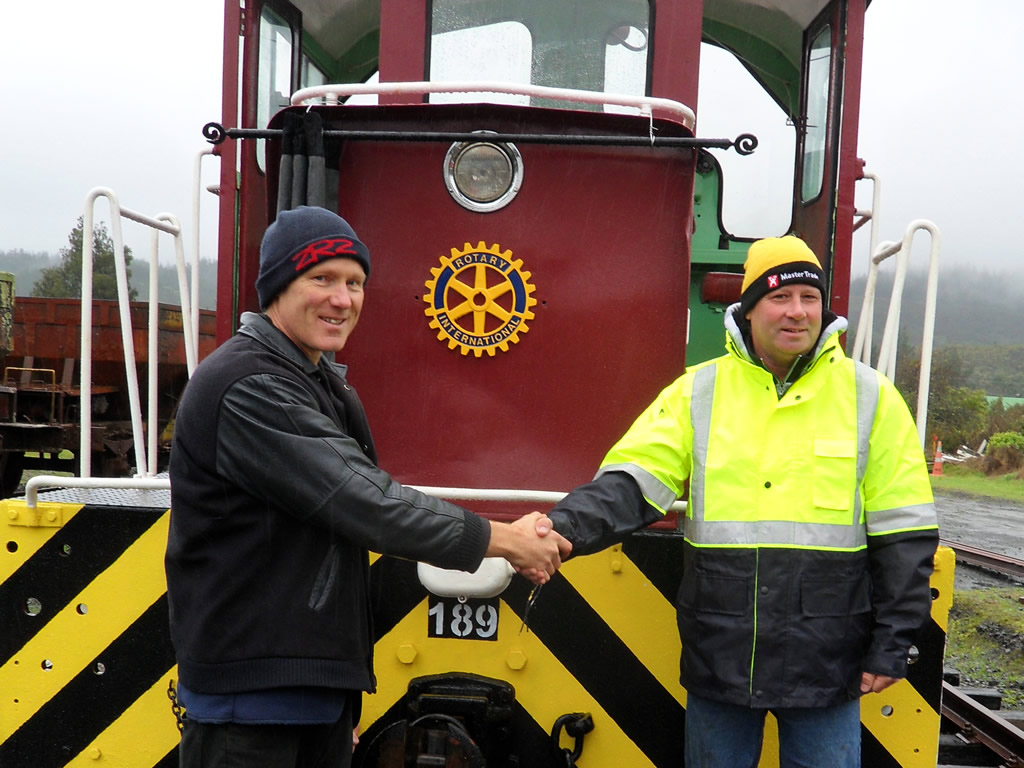 On the morning of Saturday 22 June 2013 a small crowd of people braved the tail end of a southerly storm to see our shunt loco Tr 189 officially recommissioned. After a couple of years concerted efforts the locomotive has been returned to service and has successfully completed a series of commissioning trials and checks.
Rotary Upper Hutt unveiled a badge which has been fitted to the short hood end, in recognition of the significant support they have put into the project. 
The locomotive was purchased from KiwiRail in 2010, and transported to the Trust's Maymorn site, becoming the first locomotive to be stored in our rail vehicle shed. Initial work involved a repaint into original NZR colours, complete with black and yellow bumblebee stripes on the ends. Mechanical work began in earnest in 2011, key tasks involved sourcing components stripped from the loco after it retired from service, including purchase of a replacement air compressor, starter motor, alternator and refurbishment of these items. A full diagnosis and service of the engine and transmission followed.
Thanks to all involved, including Rotary Club of Upper Hutt for a substantial donation towards the purchase of the locomotive from KiwiRail, Cossie Club Upper Hutt for a donation towards one of two new batteries and Trust members who funded and brought the locomotive back into service.