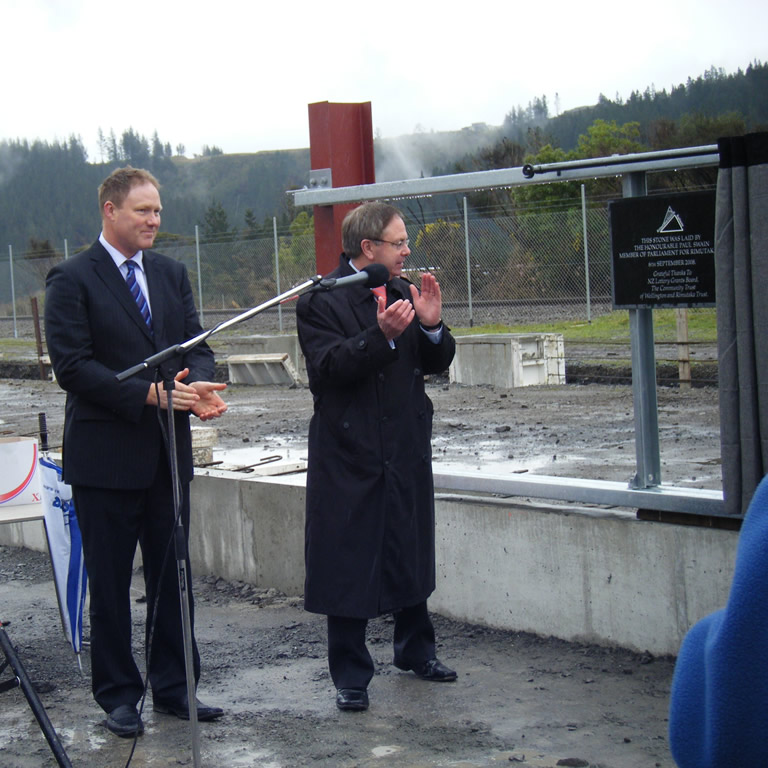 Speech — Rail Vehicle Shed foundation stone ceremony.
Greetings
E nga mana, e nga reo, e nga iwi o te motu, tena koutou, tena koutou, tena koutou katoa. Nga mihi o te tau kia koutou.
Thank you Clark Simmonds, for your words of introduction. Welcome to:
The Honourable Paul Swain, MP for Rimutaka,
Councillor Heather Newell
Councillors,
Tom Jones, Bruce Bold and other Trustees of the Rimutaka Trust
Representatives from the New Zealand Lottery Grants Board
Representatives from The Community Trust of Wellington
Representatives from ONTRACK (and KiwiRail),
Other Distinguished guests
Ladies and Gentlemen.
Welcome
On behalf of the Rimutaka Incline Railway Heritage Trust, I am delighted to welcome you to Maymorn for our foundation stone unveiling ceremony. Today we are celebrating another milestone in the project to reinstate the Rimutaka Incline as a heritage railway — which has the potential to be a major tourist attraction for Upper Hutt and the Wellington region.
The Rimutaka Incline Railway Heritage Trust was formed in 2003 with the vision to build a sanctuary for steam on the doorstep of New Zealand's capital city. The old government railway route over the Rimutaka's that closed in 1955 was an eccentric anachronism that had battled on well past its use-by date — and was unique in being the last Fell-worked adhesion railway in the world. Excursion trains would see up to five Fell locomotives battling up the grade from Cross Creek to Summit, and for those who experienced it, was a sight and sound that they would never forget. It was and will again be an experience of a lifetime, a uniquely Wellington experience and arguably the best way of keeping this precious memory alive.
About the Maymorn project
Back to the Maymorn project — we have wasted little time since gaining Resource Consent — as you can see with the building works in front of you.
The Resource Consent, however, has given approval for development of the entire railway precinct, which includes:
The rail vehicle shed
Planned extension and additions to the rail vehicle shed, including workshop facilities
A sizeable station building within which public and passenger facilities will be located,
Water vats, signals, signal box
Services, including road, car parking etc
The consent took a significant amount of time to secure, but gave us a valuable insight into some of the intricacies of the Resource Management Act...
The rail vehicle shed has been so named and described, as it will house both carriages and locomotives, until an additional locomotive shed can be built. It is, however, based on an original New Zealand Railways design dating from 1911, replicating the principle dimensions and proportions.
A guiding principal for the Maymorn development is to achieve heritage outcomes for every structure — so that the facilities compliment the heritage rail vehicles, and provide a heritage experience for visitors. We have also incorporated modern facilities that would be the envy of railwaymen working in those old engine sheds, including inspection pits, a 24-metre length that incorporates pits both within and outside of the rails and an insulated machine shop. A link with the past, however, is that the facility is without mains power — we are still working on an affordable solution for that!
Once the shed is completed we will move carriages and locomotives inside to give them protection from the elements, and keep them out of harm's way. We will also be able to commence a restoration programme, and hope to attract and retain volunteers with the flash new facilities. Already on site we have six carriages, including a wooden clad sleeping carriage built at Petone Workshops in 1909, a guards van, and three Baldwin steam locomotives, built in 1898 and 1901 of classes that used to work between Wellington and Summit.
Plans for construction
Over the past couple of months we have put a huge amount of energy into building work, completing much of the shed foundations. Four portals have been put up, and we hope by the end of the day tomorrow to have clad a first section of roof. This in itself will be greatly appreciated by volunteers, and should assist greatly with remaining building work.
The irony of the current situation is that as soon as we get the roof on we are bound to be into fine weather — but perhaps I am just saying that to play with the mind of Mother Nature…
Further portal frames will be up in the not too distant future, and I am sure that the building process will gather momentum as we get into a rhythm and pattern.
Over the Summer months we will work on the inspection pits — the roof will be greatly welcomed to provide much needed shade — as it can get fairly hot at Maymorn in the Summer!
The project has involved many challenges, right from the requirements gathering and design phase, drafting the plans and liaising with our structural engineers and working through the building code. We're also not shy of major earthworks, concrete construction, fabrication of structural steel — my lasting memory of last summer was countless days spent in my back yard marking out, drilling and cutting up to 500 cleats and plates for the structural steel work!
Thanks
This activity could not possibly have taken place without the assistance of a wide range of people and organisations.
We are indebted for the support given by the funders:
New Zealand Lottery Grants Board
The Community Trust of Wellington
Rimutaka Trust (who have backed this project since its inception)
Members of the Trust and friends who have willingly donated time, materials and financial support
We are also grateful for the support shown to the project by ONTRACK, through entering into a licence agreement with us for the activities at the site, and through the Resource Consent process.
Upper Hutt City Council have also given support to the project through a significant reduction in consent fees, and we look forward to working with the Council as we plan the next stages of the project.
We would also like to thank Vikki and Stephen of FusionArt, Upper Hutt, who have sponsored the foundation stone — a big thank you.
We also thank Hammond Crane and Cartage for assistance in putting the initial portals up — and acknowledge the supply of materials and services from a good number of Hutt Valley businesses firms, much of it at friendly rates.
Last but not least — the support of partners and family, long-suffering with our countless meetings, planning sessions, steel-working activities in what really ought to be a quiet family space in the back yard, and eventual appearance after long gruelling days at the site (usually followed by 'passing out' on a comfy chair in the lounge!)
I will leave you with one last thought:
"The impossible just takes a little longer…"
regards, Hugh McCracken, Chairperson