Shunting loco Tr189
Our first complete locomotive -Tr189 - arrived at Maymorn on Friday 30th July 2010. The locomotive will be used for shunting and track construction work at Maymorn, and will play a key role in future reinstatement of the Rimutaka Incline Railway.
Tr189 was one of nine 20-tonne shunting locomotives built to this design at the New Zealand Railways Hillside Workshops in Dunedin during the 1970s. It was renumbered 937 in 1979, and was repainted with the 'fruit salad' livery midway through its working life. Working in the Manawatu for much of its life, it had been stored out of service in Wellington for over a year before being purchased by the Trust.
A fairly extensive shunt of the shed was done on Saturday 14 May 2016, in preparation for storing another 56-foot carriage inside. Sleeping car Aa1060 and Gumdigger A255 were moved onto the inspection pit area of road 1, clear of steam locomotive Ab745.
We took the opportunity to pose Ab745 and Tr189 outside the shed for a photo, part way through the shunt.
On the morning of Saturday 22 June a small crowd of people braved the tail end of the southerly storm to see our shunt loco Tr 189 officially recommissioned. After a couple of years concerted efforts the locomotive has been returned to service and has successfully completed a series of commissioning trials and checks.
Rotary Upper Hutt unveiled a badge which has been fitted to the short hood end, in recognition of the significant support they have put into the project. 
The locomotive was purchased from KiwiRail in 2010, and...
Commissioning work has now been completed on our Hillside Workshops-built shunting locomotive Tr189. Photographs from the second day of commissioning tests - 9 March 2013 follow. Thanks to all involved, including Rotary Club of Upper Hutt for a substantial donation towards the purchase of the locomotive from KiwiRail, and Trust members who funded and brought the locomotive back into service.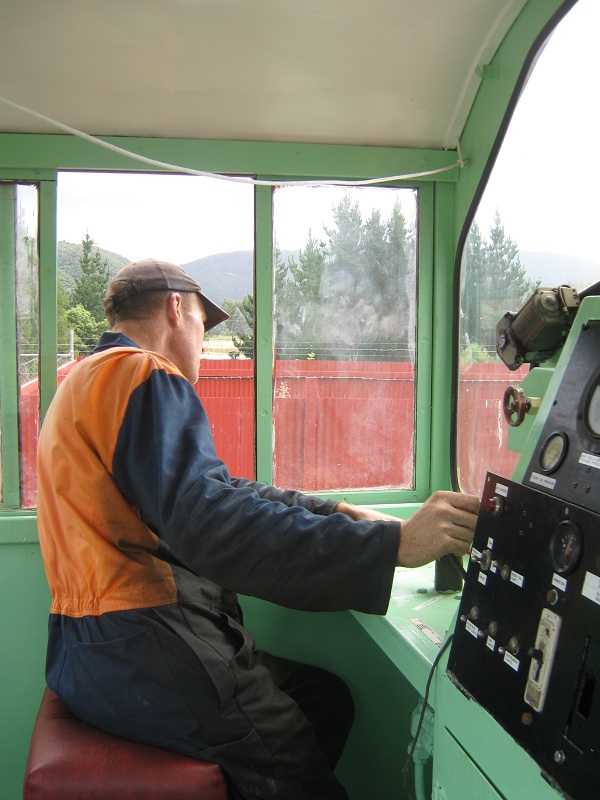 Driving cab of Tr189.
...
After months of work Tr 189 moved under its own power on Saturday 2 March at Maymorn. Recent work has included fitting a refurbished starter motor, electrical circuits and appliances, a reconditioned air compressor and associated belts and plumbing, new exhaust couplings, refitting side rods, refitting cab controls and other gear, The commissioning involved an exhaustive list of checks and tests, culminating in a first move under its own power out of our rail...
After a lot of hard work by our volunteers the Gardner 6LX diesel engine roared back to life on Saturday 6 October 2012. A long list of tasks had been worked through to get the engine ready for testing, including electrical systems, water pump, manifold, filters and oil system checks.
Pages